22 Nov

Strategies to beat the munchies for good

by Ashleigh Feltham,  Accredited Practising Dietitian and Accredited Nutritionist
Do you frequently fall victim to a case of the munchies?
A sudden need to head to the kitchen and devour that chocolate cookie just after eating lunch? The good news is there are ways you can train your body to beat the munchies and steer clear of falling victim to the urge altogether.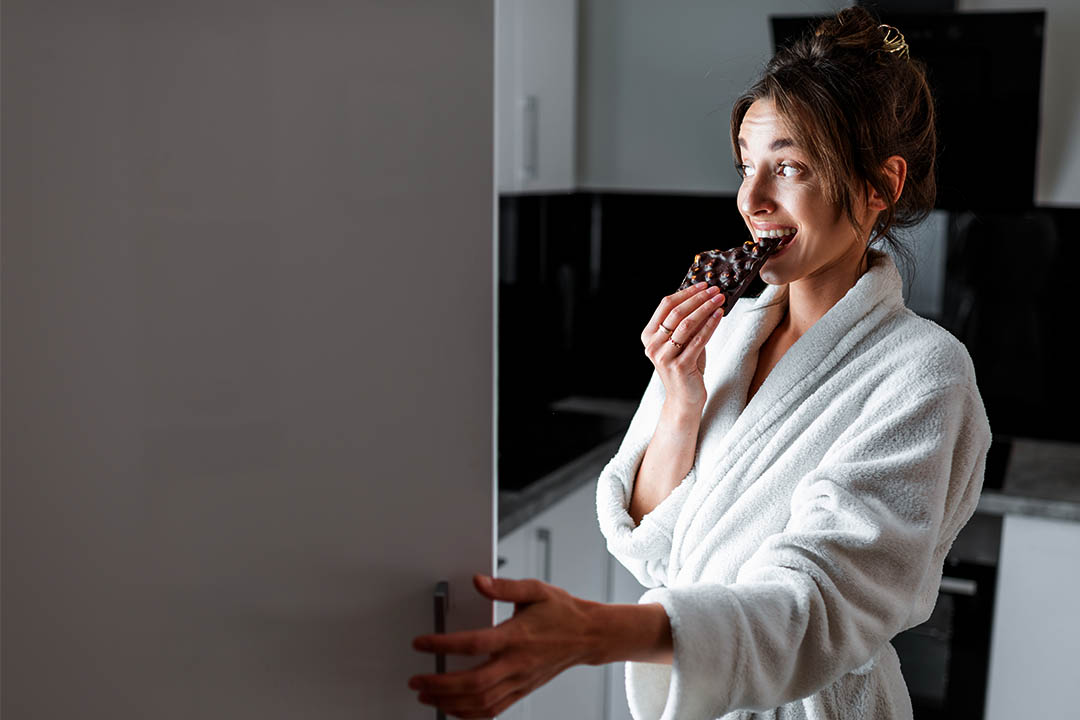 Meal combinations for fullness
There are components to a meal that your body needs for long term fullness.
Firstly protein. This should be a lean protein such as chicken breast, eggs, tofu, cheese, yoghurt, or beans.
Secondly whole grains. These are often ignored for refined and less filling alternatives like white rice, pasta, or bread.
Thirdly, remember your veggies, nuts, seeds, legumes, or fruit as these groups contain fibre which equals long term fullness. The good news is there is now another food to add to this to fill the fibre gap. Each pouch of South Australian Gourmet Food Company Fruit Custard with Added Fibre has 10.9-11g of fibre per pouch!
Some easy recipes which tick these boxes from the South Australian Gourmet Food Company include:
Peach and Apple Custard Porridge with Pepitas and Quinoa
Wholegrain Toast with Hazelnut Date and Apple Custard
For these recipes and many more quick and easy, fullness promoting recipes see the recipe section on the website. You can beat the munchies.
Plan to beat your triggers
If you know what triggers you cannot ignore, plan to beat them. If having a block of chocolate in your desk draw means that you cannot stop yourself from eating the whole bar, then choose not to buy the chocolate at all. Another strategy when the munchies come can be brushing your teeth or drinking a glass of water.
Is your diet promoting hunger?
Leptin is the hormone that makes you feel full, this hormone is a double-edged sword hormone as your fat cells also send signals using leptin. If you are overweight, leptin is used more in your body and you become less sensitive to it. The result – you end up being hungry more often. This shows the importance of being a healthy weight to manage cravings.
South Australian Gourmet Food Company Fruit Custards with Added Fibre are a great inclusion to add in your diet as a fantastic source of fibre. Fibre creates a gradual release of sugar into your bloodstream which gives you long-lasting energy. Fibre also keeps food in your stomach for longer and overall helps to reduce the desire to search for more food ten minutes after your meal or snack.
Eating more can be your friend
If you are trying to lose weight you may think that living off a carrot and a piece of lettuce will work wonders. The problem with this is that your body goes into starvation mode, making you feel even more hungry and likely leading you to make poor food choices later in the day. The key is to eat smart to stimulate your metabolism and hold off hunger for longer.
Take home message:
You are not alone if you feel the munchies during your day. You can beat the munchies by eating smart and planning to beat the triggers.